We participated in our inaugural event this weekend, September 8-9, 2018, at the Japan Summer Festival (JSF)! It was the first food-related event to be held at the renovated National Stadium. The JSF was conducted in conjunction with Sports Hub Community Play Day. It was pulled off splendidly with a huge continuous crowd of families, friends, of all age groups. There was a wide array of food, merchandise, games, and performances!
Our range of all-natural Japanese products included condiments, snacks, beverages, such as black sesame jam, brown sugar cinnamon whole wheat chips, and Okinawan sea salt citrus juice.
All-natural Awaji onion chips
At the centre of attention, were our onion chips made from hand-peeled Awaji onions from Awaji island, Hyogo, that are extremely popular for their size and sweetness. These chips are special because not only are they made of 100% natural ingredients, they retain their aromatic and delicate nature.
By undergoing a low temperature vacuum frying process, the leaves of the onion flesh retain the natural onion sweetness and soft texture, receiving a crisp coat.
Onions are low in calories, very low in sodium, and contain no fat or cholesterol. They are high in vitamin B7 (biotin) and folic acid, a B vitamin that helps the body make healthy new cells. also contain protein, vitamin A, copper, potassium, chromium, calcium, sulfur, iron, and dietary fibre. Chromium in onions assists in regulating blood sugar. Meanwhile, sulfur in onions helps lower blood sugar by triggering increased insulin production. Furthermore, there is a high concentration of flavonoids in the outer layers of onion flesh.
Our onion chips come in 3 mouthwatering flavours – salted, curry, and black pepper!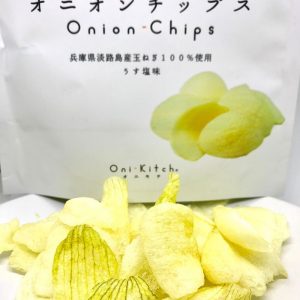 Onion chips salted
Ingredients: Awaji onion, vegetable oil, maltose, Japanese table salt
Onion chips curry
Ingredients: Awaji onions, vegetable oil, Japanese table salt, maltose, curry powder, turmeric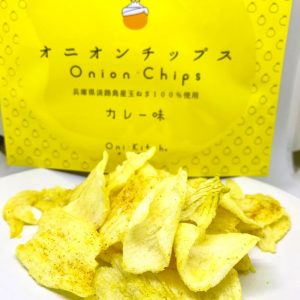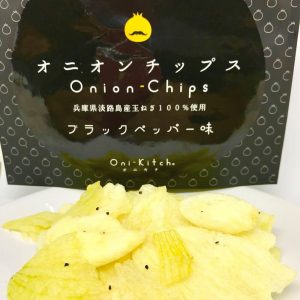 Onion chips black pepper
Ingredients: Awaji onion, vegetable oil, maltose, black pepper, Japanese table salt, Okinawa garlic salt